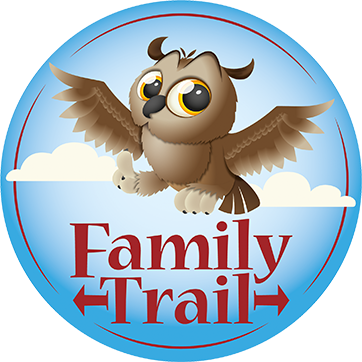 The Historium is bringing more experiences and activities for families with children
We are also pleased to welcome families with children with the Family Trail. After a visit to the Historium Story you enter the Historium Exhibition where you find the Family Trail, a light-hearted name for the most child-friendly elements, so our youngest visitors can also feel right at home.

A trail that appeals specifically to children
Alongside the information we provide, we also have various activities in the Historium that emphasise the fun factor. You can immediately recognise them by the 'kidsproof' labels. This little owl is the fun mascot that shows children around and points out the things they will find most interesting. He acts as a guide during the visit, with various games and an exciting quest.

Playful elements for more interaction and experience
People of all ages can touch and smell the containers to discover which products and smells belong to the Middle Ages and which do not. Even our surrounding area - Bruges Market Square - is also part of the quest.

Nothing is neccessary, you can have fun!
The Family Trail leads you around in a fun manner, but it is not a rigid trail that you have to follow. So you can choose what you want to do without stress: as long as you enjoy it! It is our intention to introduce children to medieval Bruges in a playful way.

Practical information
Ask for your Family Trail at the Historium Ticket Office. This sheet only serves as a compass which you can take home afterwards, just like the surprise you get at the beginning. Exciting!