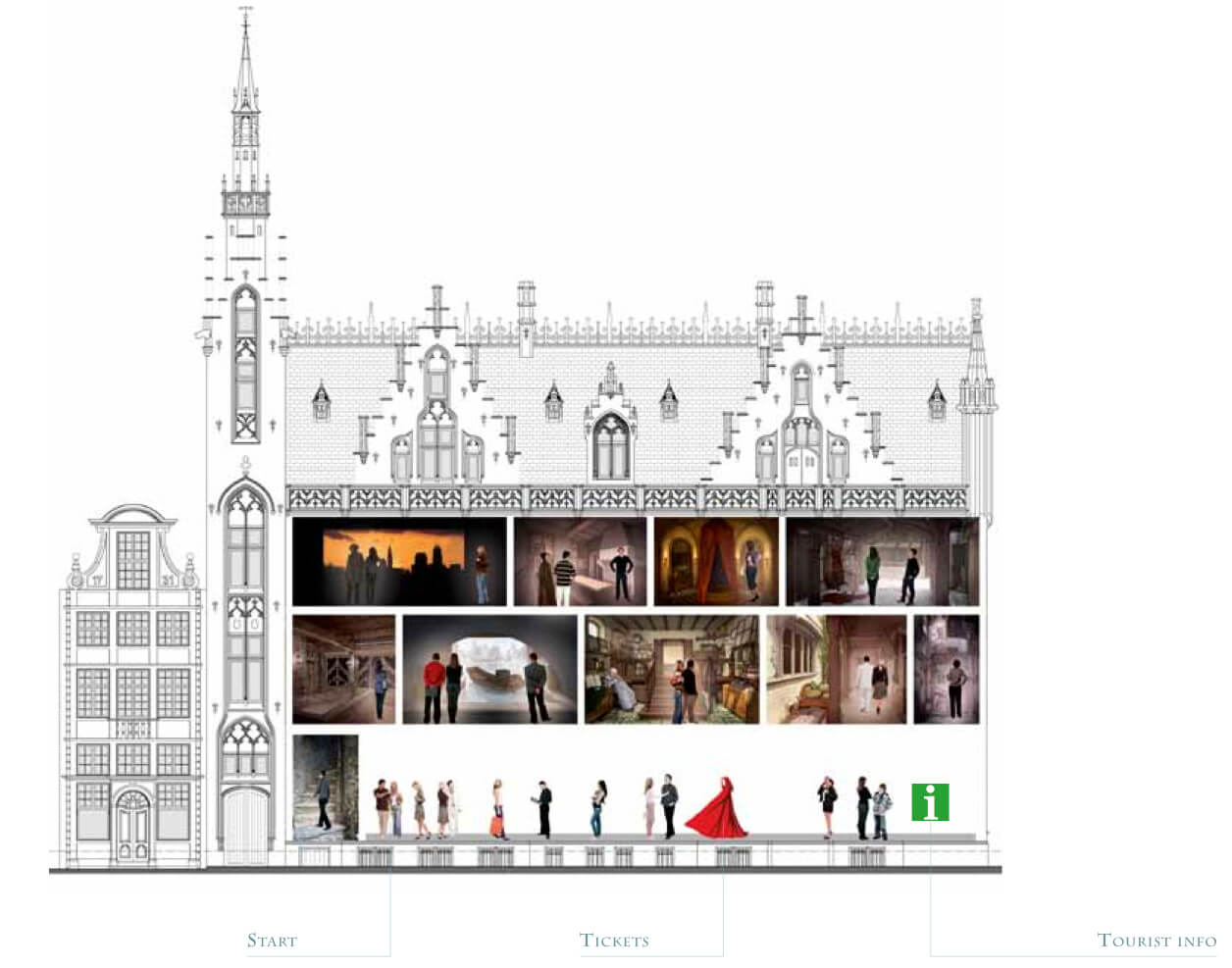 How it started

The Historium was begun by four West Flemish families. In 2006, the families Claeys and Denolf (Roularta), Vandamme (Barco) and Brackx (Jetair) got together to launch a tourist initiative, a project that would give Bruges added lustre and highlight their respective fields of expertise: communications, technology and tourism. Together with a historical committee, they developed a unique visitor attraction: a historical reconstruction in the form of a number of medieval scenes. At its launch the project received financial and logistical support from the Flemish Government, Tourism Flanders and the Province of West Flanders. The Historium was officially opened on 25 November 2012.

In 2016 the Historium Virtual Reality and the Historium VR app were launched.

In 2017, the Historium was a finalist in the Toerisme Vlaanderen Awards in the category 'Best Family-friendly Tourist Product'. Furthermore, we have also launched the Family Trail, which allows us to devote even more effort to activities and experiences for children and families.

In Summer 2018, we opened the LABORIUM Virtual Reality Gaming & Innovation Lab and the Historium Tower to the public. We have also been nominated for Westtoer's Innovation & Creativity Prize 2018. This is a fantastic recognition of our work to inspire young people with new technology.

Location

The Historium has an ideal location in the heart of the city. This was formerly the site of the Waterhalle, an important building in the history of Bruges. That building now plays an important role in the Historium attraction. It has been completely reconstructed in the Historium Story and the Historium Virtual Reality.

Making-of

In total 43 actors and extras participated in the filmed section of Historium Brugge.
The sets took nine weeks to construct
Filming was done in three different studios
On the first day of shooting, the crews filmed for 20 hours
On the first day of shooting, the two babies peed on Anna's cape eight times altogether
Some 200 m² of cobblestones were used in the harbour scene set
The harbour scene set was built in Belgium's largest blue key studio (800 m² in area and 8 metres high)
The director was the famous Caviar director Kene Illegems
The director of photography was Toon Illegems, the father of Kene Illegems
The cast's rented costumes were imported from London and Madrid
The costumes were designed by Charlotte Willems, a Flemish designer known, among other things, for her costume designs for the popular TV series 'De smaak van de Keyser'. Anna's cape was designed by Kaat Tilley and made by Kunstateliers Slabbinck of Bruges.
It took three people three days to decorate Anna's cape with pearls
The props were rented in London
The rose-ringed parakeet 'Happy', who plays an important role in the Historium narrative, wandered freely around the studios in search of human contact. If he was put in a cage, he tried to break out. There was also a stand-by rose-ringed parakeet, in case of emergencies.